I am interested in this product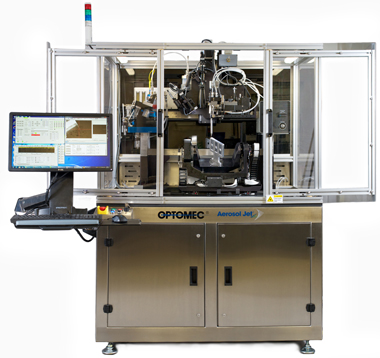 Mobile device antennas including LTE, NFC, GPS, Wifi, WLAN, and BT have been printed using the Aerosol Jet process. Measured antenna performance is comparable to other production methods. The Aerosol Jet printing process is scalable – antennas can be printed on up to 4 cases simultaneously on a single machine. Machine throughput for a typical antenna pattern measuring ~300 mm2 averages 30,000 units per week.
I am interested in this product
Downloads
Detailed Specs
The Aerosol Jet is a CAD-driven deposition solution capable of printing features from 10 microns to millimeters and on both planar and non-planar surfaces without loss of print fidelity, due to its unique deposition capabilities. The Aerosol Jet printer directly prints the antenna circuit onto standard 3D injection molded substrates, such as PC and PC/ABS, and then uses a curing step, such as a conventional oven or an in-situ laser, to complete the manufacturing process.
The process works with standard injection molded plastics – no special additives or coatings are required. Based on Aerosol Jet technology, the digital process prints conformal antennas using conductive nanoparticle silver inks. The printing process accurately controls the location, geometry and thickness of the deposit and produces a smooth mirror-like surface finish to insure optimum antenna performance. No plating or environmentally harmful materials are used in the process.
-Low cost – no plating, simplified logistics
-Standard plastics – no additives or coating
-Digital process– flexible, no hard tooling
-Environment friendly – no harsh chemicals
-Health Benefits – no exposure to Nickel
-Scalable – prints up to 4 cases simultaneously
-Antenna performance – comparable to other methods