I am interested in this product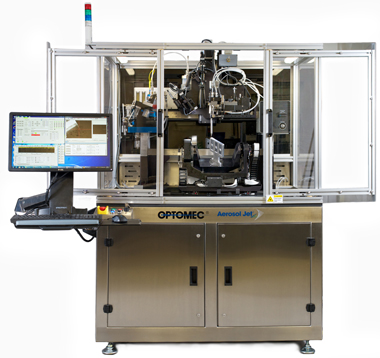 Optomec Aerosol Jet printing technology effectively produces 3D printed electronics. It uses an additive manufacturing process (aka 3D printing or direct write) that prints commercially-available conductive, dielectric, semiconductor and biologic inks onto a variety of 2D or 3D plastic, ceramic, and metallic substrates. The result is 3D printed electronics that eliminate the need for hard tooling photomasks or stencils and enable engineering changes to be quickly implemented by simply modifying the design file.
I am interested in this product
Detailed Specs
The Aerosol Jet process uses aerodynamic focusing to precisely and accurately deposit electronic Inks onto substrates. The ink is placed into an atomizer (1), which creates a dense mist of material laden droplets between 1 to 5 microns diameter (2). The aerosol mist is then delivered to the deposition head where it is focused by a sheath gas (3), which surrounds the aerosol as an annular ring. Printed features range from 10 microns to millimeters. Electronic components such as resistors, capacitors, antennas, sensors, and thin film transistors have all been printed with Aerosol Jet technology. The performance parameters of printed components, for example the ohm value of a resistor, can be controlled through printing parameters. Components can also be printed onto 3 dimensional surfaces eliminating the need for a separate substrate thereby reducing the size, thickness and weight of the end product. For example, Aerosol Jet is used to print antennas and sensors that conform to the shape of the underlying substrate such as a cell phone case.
-Digital printing – no masks or stencils
-No plating or etching required
-Feature sizes from 10 microns to millimeters
-Print thickness from 100 nanometers to 10's of microns
-Conformal printing on non-planar and 3D surfaces
-Print interconnects and active/passive components
-Print using commercially-available materials
-Print bio-materials
-Print on plastic, ceramic, and metallic substrates
-Scalable to support high-volume production requirements