I am interested in this product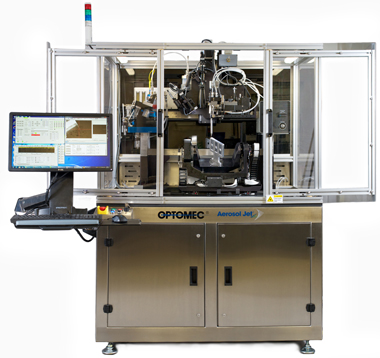 Aerosol Jet systems reliably produce ultra-fine feature circuitry well beyond the capabilities of thick-film and ink-jet processes. Print die & component attach, underfill and component encapsulation, and 3D interconnects which require feature sizes as small as 10 microns to millimeters can be produced.
I am interested in this product
Downloads
Detailed Specs
Materials can be written with a resolution of down to 20 microns. For Ag, electronic features as small as 10 microns with a 20 micron pitch can be written. This capability offers a solution for the production of smaller, high performance components critical to size-sensitive applications like those in the wireless and hand-held device markets where component density is increasing dramatically.
The ability of the Aerosol Jet technology to create fine features with complex geometries in 3D from a wide range of materials makes it suitable for the production of both passive and active components, including resistors, inductors, capacitors, filters, micro-antennae, micro-batteries, and sensors. The precise edge definition and repeatability of the process are particularly relevant to high-frequency requirements. In comparison to screen-printing, embedded resistors can be made smaller and more accurately with the Aerosol Jet process, such that no laser-trimming is needed to tune the resistor to the right value.
-3D Interconnects
-Stacked Die & Other Complex Packaging Applications
-Embedded Passives on Rigid & Flex Substrates
-Component / Die Attach Applications
-Component Underfill and Encapsulation