I am interested in this product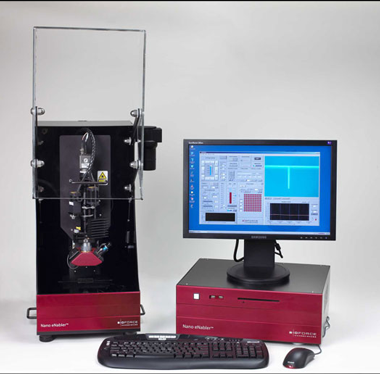 The Nano eNabler is a desktop molecular Printing System which enables ultra-micro and nano-scale fluid delivery/printing, capable of delivering Picoliter (10 to the -12 power) to Attoliter (10 to the -18 power) volumes of solutions containing biomolecules, reactive solutions, proteins, nano-particles and other materials to defined locations on to various surfaces with ultra-micro (1-60 µm ) spots or lines with nanometer spatial resolution.
The FEMTO process enables the direct deposition of virtually any molecule onto virtually any surface such as Silicon, Glass, Gold, Other Metals, Alkanethiol, Monolayers, Silanes, PDMS, Hydrogels, Nitrocellulose, Plastics, and other Polymers etc., enabling the opportunity to easily produce ultra-miniaturized and ultrasensitive Biochips, Biosensors, Bio-devices etc.
I am interested in this product
Downloads
Detailed Specs
SURFACE PATTERNING APPLICATIONS:
The Nano eNabler system provides a solution for a number of interesting experiments because it uses a patterned substrate. It prints a spot-size that allows patterning at sub-cellular distances. The Nano eNabler printer also combines the flexibility of a direct protein writing approach with speed of delivery.
VIRICHIP™ PLATFORM APPLICATIONS:
BioForce Nanosciences developed a platform for fast, sensitive and non-destructive virus detection. The platform consists of a silicon chip functionalized with an ultramicro array of antibodies using the Nano eNablerTM, and a detection system based on Atomic Force Microscopy.
BIOSENSOR APPLICATIONS:
Microfluidics
The Nano eNabler™ system can print arrays of molecules in the tiny confines of microfluidic channels
Surface Plasmon Resonance Sensors
The Nano eNabler™ system can functionalize thin gold and other metal surfaces for SPM sensors
Small Volume Biomolecular Assays:
Biomarker detection and quantification are a good example of small-volume assays with applications including cancer detection, staging, monitoring and toxicity detection.
Drug Discovery:
Leveraging the nanoscale capabilities of the Nano eNabler system to enable novel methods of drug discovery.