I am interested in this product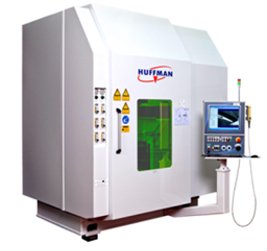 Huffman offers a complete range of 4, 5 & 6 axis DED-based Laser Cladding systems designed to meet a wide range of additive manufacturing and hard facing applications for compressor and turbine blades, IBR's, blisks, vanes and other turbine or engine components.
I am interested in this product
Downloads
Detailed Specs
Huffman Systems are used in a range of repair applications for gas turbine engines
Huffman has developed a range of proven applications for repairing gas turbine engine components used in the Aviation and Electric Power Generation industries. These applications are based on metal "Powder Fed – Directed Energy Deposition technology," an additive manufacturing process which utilizes an intense laser energy source to precisely restore and repair high value metal components. Huffman Production Repair Systems/Processes are Installed at all Leading GTE OEMs for applications including: Blisk Impeller Blade Tip Repair, Cladding of Compressor Vane Trailing Edge, Fan Blade Repair, "Z" Notch Hardfacing, Guide Vane ID and OD Restoration, HPT Vane Doublet Repair, CF6-50 Jet Engine Nozzle Guide Vane Repair among others.
Benefits of Huffman Repair Processes include:
Reduced Heat Affect Zone (HAZ) and Cracking
Minimized Base Metal Dilution
Reduced Base Metal Distortion
Reduced Base Metal Stress
Near Net Shape, Minimized Post-weld Machining/Blending