I am interested in this product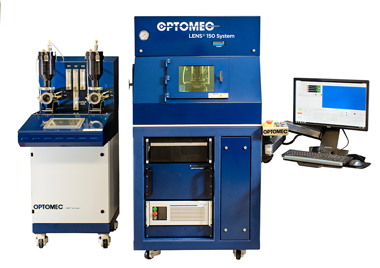 Optomec provides specially configured system for material research to rapidly produce novel materials with exceptional quality. These machines can accommodate up to four powder feeders enabling gradient materials to be made every layer for a different chemistry.
I am interested in this product
Detailed Specs
LENS Classic System for R&D:
The LENS process is housed in a hermetically-sealed chamber (Controlled Atmosphere chamber) which is purged with argon so that the oxygen and moisture levels stay below 10 parts per million. This keeps the part clean, preventing oxidation; especially for high oxidation metals such as Titanium.
LENS Systems enable advanced materials research capability ideal for University and Laboratory settings. LENS offers advanced Thermal Imaging and Multi-Material Capabilities with low operating costs and simple operation.
LENS Classic 150 Applications:
Rapid Alloy Development
Fundamental Materials Research
Rapid Solidification Research
Composites Research
Ceramics Research
Rapid Manufacturing
Hybrid Manufacturing
Advanced Product Development