I am interested in this product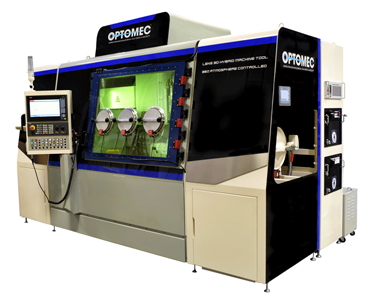 Optomec Inc. offers a full range of additive manufacturing solutions for creating, enhancing and repairing metal components with its Laser Engineered Net Shaping (LENS) systems. LENS systems use high-powered lasers to build structures layer by layer directly from powdered metals, alloys, ceramics or composites, which result in a range of benefits:
I am interested in this product
Detailed Specs
LENS Classic System Series
The LENS Classic System Series represents the state of the art in high-quality metal additive manufacturing technology for industrial use. All Classic Series LENS systems offer hermetically sealed chambers and atmosphere controls that protect the build environment from moisture and oxygen contamination down to less than 10 ppm to meet industry's most demanding metal fabrication, part restoration and surface modification requirements.
LENS Print Engine
The LENS Print Engine provides Optomec industry proven metal 3D Printing technology in a modular form for rapid integration with other metal working platforms such as CNC mills, lathes, robots, custom gantries, or even laser cutting and welding systems
LENS Machine Tool Series
The LENS 3D Metal Hybrid VMC(Vertical Milling Center) System is the industry's value leader, combining additive and subtractive operations on the same machine at a fraction of the cost of alternative solutions. Built on a solid cast iron CNC platform, the system features high precision ball screws, spindle, 8 tool ATC and advanced Siemens controls, seamlessly integrated