I am interested in this product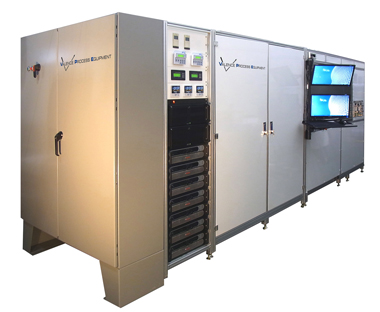 Valence Process Equipment offers both production and research-sized MOCVD reactor systems for Group III-Nitride and InGaAl-AsP material systems. We can provide a high degree of customization to suit your specific process requirements.
I am interested in this product
Downloads
Detailed Specs
Valence Process Equipment patented, 500-series platform features a non clogging, temperature-controlled showerhead gas injector, and our high symmetry, minimized-volume, non-recirculating pro led reactor, enabling production-level capacities with pilot-level gas and MO usage. Along with high speed wafer carrier rotation, rapid heating capability to 1200C, and high-velocity, uniform- fluid gaps providing efficient heat removal and uniform wall temperatures, the 500-series provides state-of-the-art epitaxial materials properties and uniformities at unbeatable efficiencies.
CAPACITY SPECIFICATIONS:
– 250- series capacity
– 10x2in, 5x3in, 3x4in, 1x6in, 1x8in
– 500-series capacity
– 72x2in, 20x4in, 7x6in, 4x8in
FACILITY SERVICES:
– 208 and 380 VAC, 3- Phase Power
– Purified N2, H2, and NH3 Gases
– Cooling Water Recirculation Loop
– Cabinet and Exhaust Ventilation
MATERIAL SPECIFICATIONS:
– GaN, InGAN, AIGaN, AIN
– 2 in., 3 in., 6 in., 8 in. Substrates
– Sapphire, Silicon, Silicon Carbide.