I am interested in this product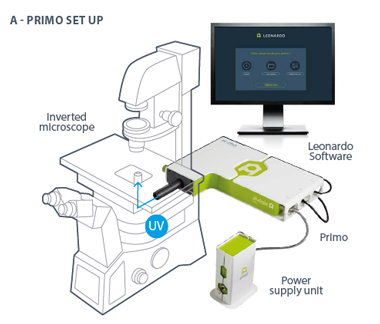 First Multi Protein Photopatterning System
Convert your microscope into an automated bioengineering platform to engineer smart cell culture substrates and physiologically-relevant in-vitro cell models.
PRIMO was developed to enable you to engineer custom microenvironments and fine-tune their mechanical and biochemical properties, at the micrometer scale with high flexibility and reproducibility.
I am interested in this product
Downloads
Detailed Specs
Among the methods to control this microenvironment is a rapidly developing process called "micropatterning", which involves creating protein patterns upon which living cells are cultivated. However, current micropatterning techniques are tedious, complex and non-quantitative. Moreover, protein micropatterning is limited to the control of the biochemistry of the cellular microenvironment. Based on these findings, the scientists at Alvéole developed an innovative bioengineering platform to easily fine-tune the mechanical and biochemical properties of the in vitro cell microenvironment: PRIMO, based on LIMAP* photopatterning technology (Light Induced Molecular Adsorption of Proteins).
PRIMO combines a contactless and maskless photolithography system (DMD based photopatterning) controlled by a dedicated software (named "Leonardo") and a specific photoactivatable reagent (PLPP).
As a photopatterning system, PRIMO can be used for microfabrication and hydrogel structuration to create microstructured substrates with controlled topography and stiffness.
Additionally, the combined action of UV (λ=375nm) and PLPP makes it possible to perform micropatterning and generate, in only a few seconds, any multi-protein pattern on standard cell culture substrates (flat or structured, stiff or soft).
Simply select the pattern you want to use from your computer files (no size or shape limitations). Primo then projects it onto the cell culture substrate to create microstructures (microfabrication, hydrogel structuration) and/or to generate micropatterns with the protein of your choice (micropatterning). The system allows you to better study the behavior and development of living cells in a broad range of applications, such as: cytoskeleton dynamics, cell adhesion force measurement, cell confinement, cell migration, tissue engineering, spheroids.