I am interested in this product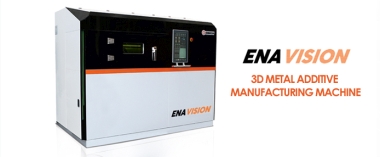 Ermaksan is offering ENAVISON series SLM Metal 3D Printing machines to meet complex challenges in industrial Additive Manufacturing. With its open architecture, it enables to use different metal powder types in various industries to build parts with over 99% density.
I am interested in this product
Detailed Specs
ENAVISION begins by setting an even layer of the desired metal powder on the build platform and a high-powered laser fully melts the metal in the exact areas dictated by the model. The next layer is set and ENAVISION continues to melt and fuse each layer until the print is completed.
The manufactured parts can be compared with the conventional production technologies. There are standard metals that continuously expand.
The parts can be processed as any welding part. This process meets the customer requirements in various applications.
ENAVISON 120 offers Build Volume (mm3): Ø120×120
ENAVISION 250 offers Build Volume (mm3): 250x250x300
TWIN LASER SYSTEM: With ERMAKSAN's Modular Dual Laser technology, you can increase your productivity up to 90% at any time. You can have a faster production capacity up to two times.
ENAVISION TWIN 250 P offers Build Volume (mm3): 300x300x300
ENAVISION TWIN 250 F offers Build Volume (mm3): 250x250x300
ENAVISION 400 P offers Build Volume (mm3): 400x400x300