I am interested in this product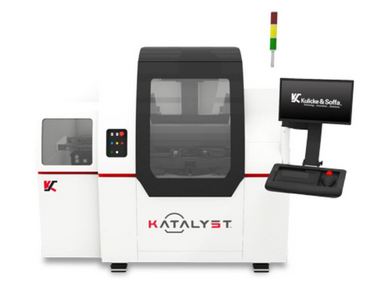 Highest Accuracy, Highest UPH Flip-Chip Performance
Kulicke & Soffa's Katalyst™ delivers the industry's highest accuracy and speed for flip-chip placement. Its hardware and technology enable < 3 μm accuracy on substrate or wafer, achieving the best Cost-of-Ownership in the industry.
I am interested in this product
Downloads
Detailed Specs
Advanced automation and software features have been employed to
achieve exceptional Ease-of-use, allowing the Katalyst to act like a
single-nozzle machine.
KEY FEATURES
• Dual Gantry with Multi-nozzle Placement
• Multi-die Pickup and Multi-die Dip Flux
• Industry Leading 15K UPH
• 50 μm Thin-die Pick Capability
• < 3 μm Accuracy
• Single-nozzle Setup and Teach
• Machine Health Check Diagnostic
• Complete Material and Process Tracking
• Automated Accuracy Stability Feature
• Electronic Vibration Cancellation Feature
• In-situ Flux-dip Quality Inspection
• Fast Tool-less Application Changeover
• Automated Die Ejector, Pick Tool, and
Place Tool Changers
• Industry 4.0 Compliant