I am interested in this product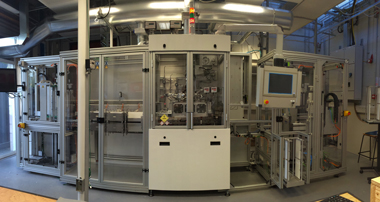 Nines Photovoltaics has developed a novel silicon wafer etching technology designed to meet the specific requirements of the PV solar cell manufacturing industry.
I am interested in this product
Detailed Specs
Nines are offering a range of processing tools with the patented ADE (Atmospheric Dry Etch) technology at the core.This technology offers a range of benefits to the cell manufacturer and an efficient texturing method for diamond wire cut multi-crystalline mc-Si wafers.
BENEFITS – FLEXIBLE, FUTURE PROOF TECHNOLOGY
-Enables the use of diamond wire cut wafers, epitaxial wafers, cast wafers, mono and multi.
-Delivers low reflectivity textures, outperforming industry standards with wafer surface reflectivity Rw values adjustable within a range from 19% down to 2% (black silicon)
-True Single side processing – the back side is untouched
-Enables advanced cell architecture whilst also reducing processing costs
-Facilitates improved scalability of the manufacturing process – inline, high throughput, On-Site generation of Etching gases
-Improves the overall sustainability of the manufacturing process, using only Zero Global Warming otential (GWP) Chemicals.