I am interested in this product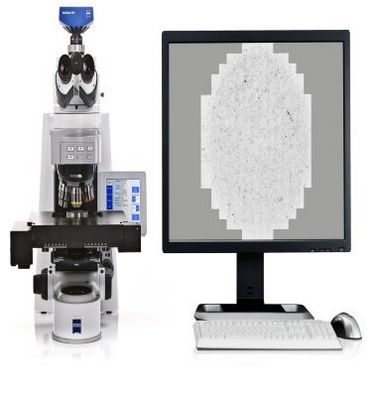 Your Upright ResYour Microscope System for Advanced Materials Research
Introduce ease of operation into your microscopy workflow – Axio Imager 2 ensures accurate and reproducible results from quality control and process control.earch Microscope Platform
I am interested in this product
Downloads
Detailed Specs
Axio Imager 2 features brilliant optics and homogeneous illumination. The contrast manager and light manager ensure defined conditions and reproducible results at all times. Use ACR to automatically detect and configure objectives and contrast modules for Axio Imager.Z2m.
Choose your system out of four different stand versions and expand your applications with dedicated solutions: Particle Analyzer, Correlative Microscopy or LSM 900.
Profit from brilliant optics for superb contrast and resolution
Gain enhanced flexibility with the modular design concept with a range of motorized and encoded components for enhanced flexibility
Obtain reproducible results with its stable stand design and vibration-free working condition
Upgrade your Axio Imager 2 with ZEISS LSM 900 confocal laser scanning module
Use Axio Imager 2 for correlative microscopy workflows and particle analysis
Achieve accurate reproduction in quality control and process control with its automated functions
Contrasts
Choose from a Wide Variety of Techniques
Take charge of your research and examine a diverse range of materials. Analyze metallic structures, composites, glass, wood and ceramics. Examine polymers, liquid crystals.
Choose from a wide variety of contrasting techniques to gain additional information. Use reflected light and observe your samples in brightfield, darkfield, differential interference contrast (DIC), circular differential interference contrast (C-DIC), polarization or fluorescence. Use transmitted light and examine your samples in brightfield, darkfield, differential interference contrast (DIC), polarization or circular polarization.
The contrast manager ensures reproducible illumination settings for your Axio Imager 2.
Axioimager 2 MAT – Ergonomics
Ergonomics
As Multifaceted as Your Surfaces
Axio Imager.Z2m or Axio Imager.M2m display key operating functions on a touch screen, giving you fingertip control of all motorized components.
Additional control buttons are positioned ergonomically around the focus drive, with tactile surfaces that make them easy to distinguish.
Axio Imager.D2m has five pre-programmed buttons while Axio Imager.Z2m has ten user-definable buttons.
Linkam Heating Stage Thermomicroscopy
Flexible Documentation of Temperature Changes
Do you want to examine how temperature influences the behavior of metals, crystals, ceramics or plastics?
With AxioVision and Linkam heating stages you define heating or cooling experiments. Document the temperature pattern in a time lapse series. The result you obtain is a log of the temperature and vacuum data in each time lapse image. Observe sample changes during the heating or cooling process for example in the field of quality control.