I am interested in this product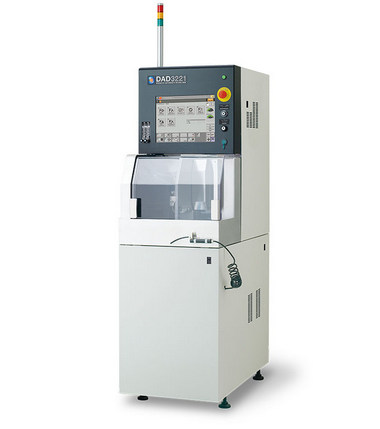 Compatible with 6 × 6-inch Workpieces Using a User-Specified Specification
Single-axis dicing saw which is compatible with the 6 x 6-inch workpiece using a user-specified specification.
I am interested in this product
Downloads
Detailed Specs
Compatible with Diverse Small Workpiece Processing Needs
DAD3221 is a single-axis dicing saw which achieves processing of workpieces up to Φ6 inches as a standard, and 150 x 150 mm with a user-specified specification. Has the world's smallest footprint* (width: 490 mm x depth: 870 mm) through the small footprint design. A 2.0 kW high-torque spindle is installed as a standard specification and a high-rotation 1.8 kW spindle is available as an option.
*Investigated by DISCO
High Productivity
Software operation speed and response speed are improved through adoption of a high performance MCU. The axis speed is accelerated and throughput is improved by adopting servo motors for all axes. In addition, this model uses PC electric components as standard and supports communication control as an option. Because image recognition functions, such as auto alignment, auto focus, auto kerf check, are installed as a standard specification, it is possible to minimize operator labor costs.
Improved functions and operation
The high-speed, high-accuracy NCS (Non-Contact Setup, optional) reduces blade height measurement time for the processing table by 74%. Further processing quality stabilization is achieved through improved measurement accuracy. In addition, the visibility during kerf check was improved by enabling microscope ring light three-channel switching. This model supports SECS/GEM.
Ease of operation
XIS (Extended Interface System)
Operation buttons are consolidated on the microscope screen.
Wafer mapping
The processing status is displayed visually in the same way as fully automatic equipment.
Log viewer
Analog data is displayed in a graph and equipment data is more easily visualized.
Help viewer
Troubleshooting is displayed when an error occurs to achieve quick and accurate recovery support.
Automatic alignment, Autofocus, Automatic kerf check