I am interested in this product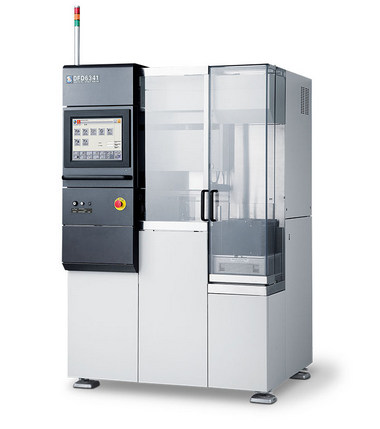 Offering improved productivity of fully automatic dual spindle dicing saws by introducing measures to increase throughput with proven records in the field
I am interested in this product
Downloads
Detailed Specs
Increased productivity
DFD6341 is the latest fully automatic dual spindle dicing saw for Φ8-inch wafers, incorporating the throughput enhancement technology developed in DFD6362 for Φ300 mm wafers. Adoption of a uniquely developed axis mechanism enables X-axis return speeds up to 1,000 mm/s. Improved acceleration and deceleration performance for each axis also increases the distance where the axis moves at maximum speed, substantially improving throughput. In addition, optimization of the parts used increases the speed of the major transfer unit and a shorter distance between the spindles allows for less processing time during dual cut.
Space – saving design
The footprint is reduced by 3% from the DFD6340. Four different accessories: the transformer, UPS (uninterruptible power supply), CO2 injector, and booster pressure pump can be included internally without expanding the footprint.
Easy operation
A GUI (graphical user interface) which has been recognized as easy to use on existing models has been included on the DFD6341.Combined with an LCD touch panel, the DFD6341 offers stress-free operation for operators
High speed flash alignment (optional)
High speed flash alignment combines a xenon flash lamp and a high speed CCD shutter for high speed. Combines a xenon flash lamp and a high-speed CCD shutter to perform high speed alignment without the need to stop the chuck table, which reduces alignment time and increases throughput.