I am interested in this product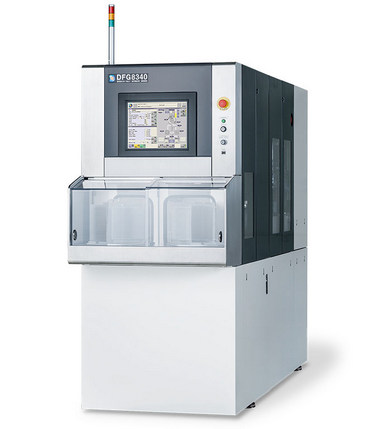 Supports small volume grinding with high precision
Φ200 mm
1 axis, 2 chuck tables
I am interested in this product
Downloads
Detailed Specs
Stable, high-precision wafer processing
With the integration of devices, wafer manufacturing processing, which requires high- planarity, is adopting surface grinding. DFG8340, the successor of DFG830 (equipment used all across the world), is equipped with a high-rigidity spindle, realizing stable and high planarization of wafers by minimizing the impact of the processing heat.
Available for various workpieces less than Φ8-inches in size
DFG8340 is a simple and compact fully automatic grinder which adopts a single spindle, dual chuck table, and single turn table structure. It can process silicon wafers less than 8- inches with low-damage low-amount processing, and SiC, sapphire, and ceramics.
A grinder that replaces lapping
General lapping is a batch process that uses loose grain, making it difficult to control the finish thickness. DFG8340 improves processing quality and the environmental load by measuring wafer thickness in real time and processing with only DI water.
Easy Operation
Installation of a touch screen and GUI (Graphical User Interface) provides improved operability. In addition, processing and equipment status are displayed on-screen and each operation can be performed just by touching the icons. Thus, high operability during processing and maintenance is achieved.
Simplified Wafer Shape Adjustment
Using the one-touch wafer shape adjustment function on the operation panel to suit the workpiece, DFG8340 achieves stable processing accuracy for a variety of workpieces.