I am interested in this product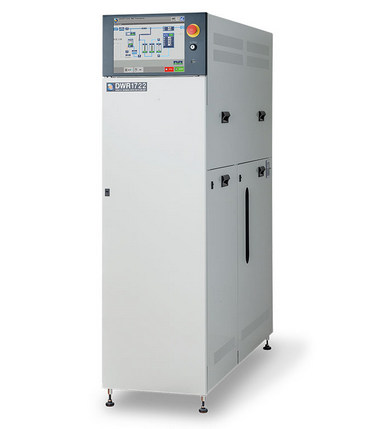 Ultracompact DI water recycling unit with extraordinary energy and water conservation
I am interested in this product
Downloads
Detailed Specs
Numerous functions, ultra compact
The DWR1722 is a DI water recycling unit for dicing saws with functions for DI water production, water temperature adjustment, filtration, and removal of suspended solids such as cutting particles. Thanks to the introduction of the compact and highly efficient CC Filter, an original DISCO invention, a small equipment footprint has been made possible.
Environmentally friendly
The high recycle rate (99.5% with zero wastewater) exceeds what is possible with conventional recycling units and greatly reduces city water consumption. Since this unit can be installed adjacent to dicing saws, piping can be shortened and water temperature fluctuations as the water runs through the piping can be minimized. Furthermore, together with the high recycling rate and water consumption, the power needed for water temperature control is also minimized.
DWR1722 is eco-friendly and, in addition, can contribute toward achievement of the SDGs.
Efficient installation at your facility
Different from the conventional large scale DI water recycling facilities, this unit can be introduced efficiently in accordance with the number of dicing saws installed. Furthermore, since it can be installed adjacent to the dicing saws, piping construction for DI water supply and recovery of wastewater becomes unnecessary. For the DWR1722, the RO unit and other functions have been reclassified as options, for a simplified standard specification. Our customers can now select only the functions they need, so we can provide the most suitable specification for our customers.
Notes:
– A separate water supply at a controlled temperature is necessary in order to cool the chiller unit.
– The DWR1722 can handle two dual spindle dicing saws or four single spindle dicing saws.
– Supplies deionized water (however, optional function must be chosen to use city water)