I am interested in this product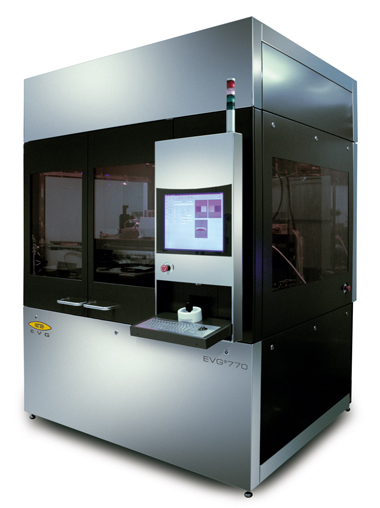 EV Group introduces the 2nd generation EVG770, a new, flagship solution for step and repeat nanoimprint lithography. Implementing a unique approach, this system addresses large-area master fabrication for optical applications and replication of high-resolution features for nanooptics and nanoelectronics for wafers from 100 mm to 300 mm.
I am interested in this product
Downloads
Detailed Specs
The EVG770 step and repeat system supports hard and soft UV-NIL as well as micro-contact printing applications. Special system features include a dual-stage alignment approach for excellent overlay, a high-precision wafer stage and a unique imprint head which allows for real time and in-situ characterization of embossing and de-embossing forces of various commercial available resists or anti sticking layers. Additionally, a resist drop dispensing system for viscosities between 1 to several 1,000 mPas which improves the process flexibility for micro- and nano patterning. The EVG770 is abel to imprint in vacuum, which enables superior pattern fidelity, yield, and device performance. The system supports semi- and fully automated wafer and template transfer.