I am interested in this product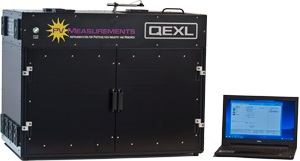 QEXL Solar Cell Quantum Efficiency / IPCE / Spectral Response Measurement System – Measure your cells fast with great repeatability.
I am interested in this product
Downloads
Detailed Specs
The QEXL System is a low-cost, high-performance quantum efficiency measurement system, which is capable of delivering high speed measurements on most types of solar cells. The system is designed for fast, high accuracy measurements of dye sensitized, Perovskite, crystalline and amorphous silicon, CdTe, and similar devices.
-300 nm to 1100 nm scan range (1400 nm range available)
-High resolution scan in under 1 minute
-Probe beam from 1 mm to 20 mm
-Seamless switching between DC and AC measurement modes
-1 Hz to 120 Hz chopping frequency
-CE Marked.