I am interested in this product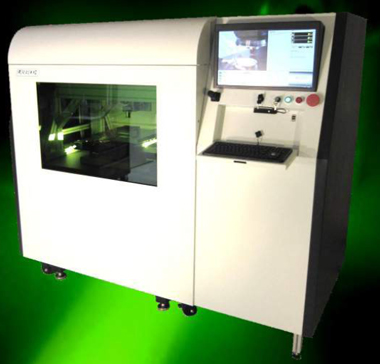 Laserod's Laser systems range from high power applications like cutting and drilling to low power such as patterning thin films and marking. Laserod offers two basic configurations of laser patterning systems: LPS Series with XY stage to move the display part with fixed optics, and SPS Series galvo moving beam over a fixed part .
I am interested in this product
Downloads
Detailed Specs
Our standard laser systems use solid-state YAG lasers available with choices of IR (infrared), green and UV (ultraviolet) and as fiber, or diode laser types. We recommend the best designs for your application(s) and custom engineer each system to optimize performance, tailored to your requirements.
LPS-300 (Direct Laser Patterning for prototyping and R&D):
Features a fixed beam with XY stage, and one of three types of lasers: IR, green or UV. The X/Y stage moves the glass plate or plastic sheet beneath a stationary focused laser beam. It features ultra high accuracy and relatively low throughput because the stage is slower than moving galvo mirrors. Available with IR fiber laser, or with green or UV diode lasers. Green is used for chrome on glass, UV for 10um feature size, and fiber for other applications.
SPS Series for Direct Laser Patterning:
Features a galvanometer (galvo) overhead fast moving beam, and one of three types of lasers: IR, green or UV. An optional XY stage is used where both accuracy and high throughput production are required. IR fiber lasers provide an impressive set of advantages compared to other lasers: lowest cost, longest life, lowest operating cost and highest speed.